Lakes Guide Photographic Competition 2009 - 2010
"Images Of Lake District Life and Landscape"
We are delighted to announce the winners!
We have four entries selected by the judges as being worthy of first equal place, therefore the £1000 prize fund is now shared at £250 to each of the following four entries.
Barry Hutton, South Yorkshire
Barry writes: I took this photograph on a visit to Tarn Hows. As this was 'family-time', I almost left my gear at home and I remember hesitating before putting my bag and tripod in the car boot! However, the obsessive nature of the landscape photographer prevailed. I am used to the isolation and solitude of my pursuit, but on this memorable New Year's Day 2009, the crowds were unprecedented. And no wonder why: an amazing hoar frost gripped the tarns and I took this photograph just as the light was starting to break through the thick air and the thaw had just begun to reveal the muted colours of the trees. Taken with a Canon EOS 40D camera and a Canon 17-40 L lens at 40mm. Shutter speed 0.3 seconds and an aperture of f/20. A 0.6 graduated ND filter attached to balance the brightness of the sky.
John Williamson, Northumberland
John's comments: The images were shot on 5 April 2009 when I was on a two day break. My wife had suggested that I might like to relax a little from my photography, rather than be chasing pictures for the duration. However, the weather was not at its best, so we enjoyed a driving tour, and when the weather broke, I was fortunate enough to capture some images which went into the competition. Ashness Bridge is probably a much photographed subject, but very picturesque nevertheless. I was fortunate to be there when the light was good, so was compelled to capture it. The image was shot on a Canon 1DS Mark III, with 24-70mm lens, at f22, and 0.4 seconds.
Jim Glazzard, Northumberland
Jim writes: The photograph was taken in February/March 2008 with a Nikon D200 fitted with a Nikon DX 18-200 VR zoom lens. The camera settings were focal length = 52mm, shutter speed 1/160, aperture f/6.3 and ISO 100. The photo was taken from Walla Crag facing southward towards Borrowdale on a cold and frosty day. My wife and I visit the lakes on a regular basis, about 3 times per year. We are both keen walkers and also enjoy taking photos whilst rambling over the fells. We tend to use Keswick as our base and the walk from Keswick to Ashness Bridge, where the photo was taken, is usually our first warm up walk each visit.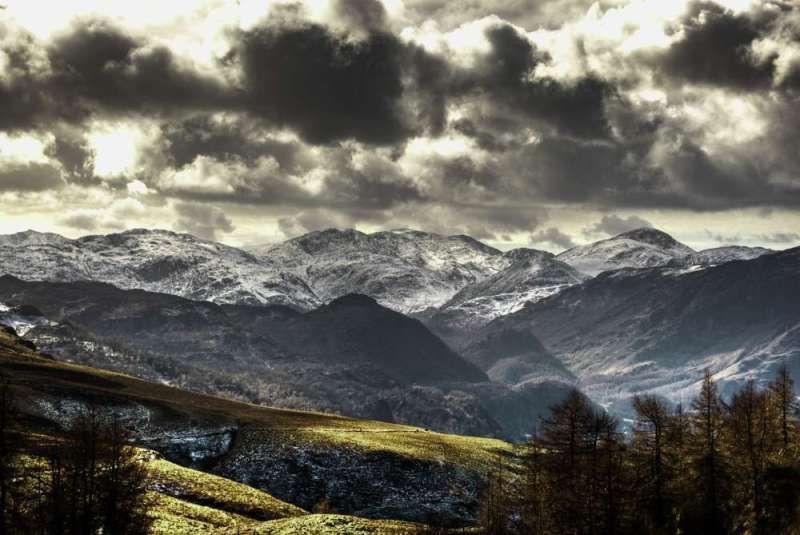 Maria Burton, Cumbria
Maria writes: It was taken at The Borrowdale Shepherds Meet at Rosthwaite - The Herdwick sheep and other types were waiting to be judged and were nuzzling each other and moving as though to say 'Pick Me!' The show had sheepdog trials, fell running, wrestling and traditionally, was where farmers came to show and sell sheep. It was on Sunday September 20th 2009, taken on a Canon 40D, 17-85mm Canon Lens at f5.6. It was great to see traditional aspects of Cumbria at close hand. Farmers were 'training' youngsters to handle sheep for judging and to shear them by hand. It was a combination of serious work being done with informing and entertaining visitors. I also witnessed dry stone walling demonstrations, 'sheep dogs' gathering and leading geese and ducks through and over obstacles and steam engines on a small scale being exhibited. History meeting modern times. People of all ages were involved and it was a real reflection of the local community.

Other highly commended photos were (click on them to see them full size!):
Other pages of Lakeland photographs:
Lake District Photography Gallery Page 1
Lake District Photography: Gallery Page 2
Lake District Photography Competition 2006
See us on