Welcome to your guide to crafts in the English Lake District
There's a wealth of local talent in the field of Lake District crafts, including skilled blacksmiths, wood turners, jewellery makers, toy makers, textile artists, artisan food producers, and more. See the map below and then select the number corresponding to the place you'd like to see.
---
Craft Map
The numbers on the map correspond to the descriptions below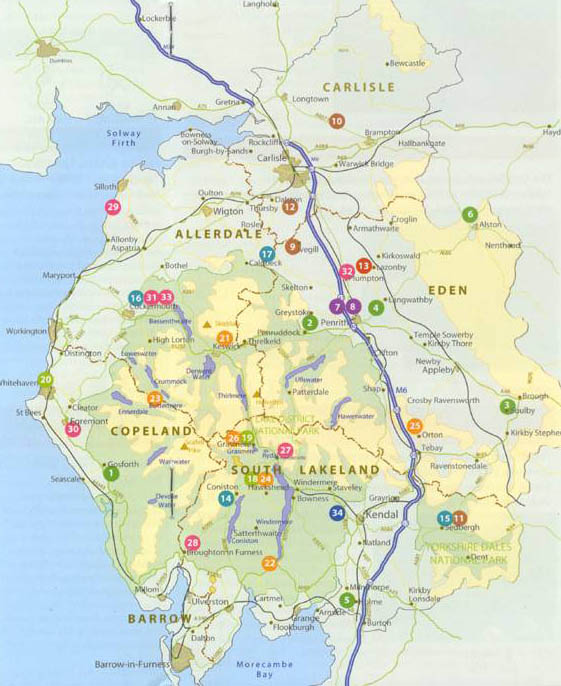 Lake District Ceramics
---
01 Gosforth Pottery
Gosforth Pottery, Hardingill House, Gosforth, West Cumbria, CA20 1AH
Phone: 019467 25296 Email: mail@potterycourses.co.uk Web: www.potterycourses.co.uk
A busy country pottery selling earthenware and stoneware pots mode in the pottery. Also pots by other potters. Pottery courses, pottery painting and pottery lessons - phone for details. Large range of garden pots. Mail order available.
Hours: Summer 10am - 5.30pm; Autumn & Spring similar but phone if making a special journey; January and February, Friday and Saturday 10.00 am - 5.00pm
Directions: North end of village 200 yards from centre, towards Whitehaven.
---
---
03 Hutton Lodge Pottery

Soulby, Kirkby Stephen, Cumbria, CA17 4PL
Phone: 017683 71396 Fax: 017683 72300 Email: potrobert@aol.com

Domestic thrown stoneware. Finished in cream/green, cream/blue slip slip brushed decoration. High fired oven to tableware.
Hours: Eight till late 7 days. Closed Christmas and New Year.
Directions: In Kirkby Stephen, turn towards Crosby Garret / Appleby off the A685. In Soulby follow brown tourist pottery signs.
---
04 Mary Chappelhow Interlude Ceramics Ltd

Brougham Hall, Penrith Cumbria, CA10 2DE
Phone: 01768 899284 Email: info@interludeceramics.com Web: www.interludeceramics.com
Mary writes:
I now have a gallery shop which is open to the public. I also share the workshop with two other local potters, Arwyn Jones and Gwen Bainbridge. Brougham Hall is a fortified 14th Century house which is in the process of being restored and I occupy the old stables. There are other businesses on site as well as a lovely cafe. Hope to see you soon.
Regards, Mary
---
05 James Hake Ceramics
Unit 8 & 9, Holme Mills Industrial Estate, Holme, Cumbria, LA6 1RD
Phone: 07769 945487 Email: contact@jameshake.co.uk Web: www.jameshakeceramics.co.uk
James Hake produces thrown and hand built ceramics. He creates large interior pieces for galleries and commissions as well as smaller functional items. James' work is characterised by the use of oriental
style glazes fired in a gas kiln.
Hours: Appointment only
Directions: Follow the signs to Holme Mills Industrial Estate from the A6070.
---
06 Gallery 1611
Gallery 1611,Studio House, Market Place, Alston, CA9 3HS, 01434 382137
www.gallery1611.co.uk
Ceramics inspired by the Pennine landscape are on display in this unique 17th century building. Changing exhibitions by other ceramic artists are held throughout the year.
---
Lake District Jewellery
---
07 Dancing Peacock

Dancing Peacock, 14 Whitfell Avenue, Carlisle, Cumbria CA2 6QR
Phone: 01228 514877 Mobile: 07882 167682
Website: www.dancingpeacock.co.uk Email: Deborah@dancingpeacock.co.uk

Deborah makes unique jewellery to her own designs, and her work can be seen in a number of Cumbrian galleries. Her latest range is of fused dichroic glass jewellery. Her pieces vibrate with all the colours of the rainbow, producing stunning effects - the colours shift as if they were permanently under water. And now - Deborah also now makes pictures, clocks, photograph frames and other items, also all of dichroic glass. all well worth a look, and very likely to solve your present problems! Click to expand the photos below.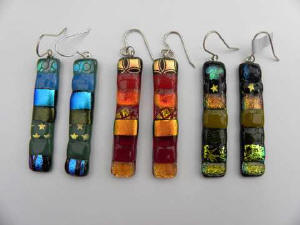 ---
08 Sue Kane Designs at the Gem Den
31 King Street, Penrith, Cumbria, CA11 7AY
Phone: 01768 899989 Fax: 01768 862111 Email: sue@thegemden.co.uk Web: www.suekanedesigns.co.uk
In Sue's specialist gem shop you can choose from an array of semi-precious jewellery. Alternatively have a piece created for yourself from her large stock of beads and stones.
Hours: Mon to Sat 10am-5pm
Directions: Within town centre at southern edge near Post Office.
---
Lake District Wood Crafts
The Cumbrian landscape has changed throughout the ages and part of that change has been the gradual clearance of woodlands. However woods such as those at Grizedale, near Coniston, remind us of how important they were to the Cumbrian economy. Some woodland skills still remain in a small way, such as coppicing and charcoal burning, whilst industries such as bobbin making have died out. However it is the skilled craft workers and small enterprises working in wood who are still prominent in the county. These include swill and basket makers, toy and walking stick makers, wood turners and carvers, and of course furniture makers working in both traditional and contemporary styles.
---
The Cane Workshop
Stokoe House, Market Place, Alston, CA9 3HS, 01434 382973 featuring locally made and tratitional arts & crafts.
www.thecaneworkshop.co.uk
---
09 Harold Harrison Turning School
Eden House, Ivegill, nr. Carlisle, Cumbria, CA4 OPJ
Phone: 016974 73528 Fax: 016974 73111 Email: harold.harrison4@btinternet.com
Harold Harrison is a professional turner on the register of The Worshipful Company of Turners of London. He offers patient, personal tuition for beginners and beyond in his modern, purpose built turning school. 1 - 3 day courses available. Lunch and refreshments provided.
Hours: Appointment only
Directions: Students are met at M6 Southwaite Services North or South.
---
10 Ram Workshop
Burndale, Kirklinton, Carlisle, CA6 6DW
Phone: 01228 675641 Web: www.ramworkshop.co.uk Email: richard@ramworks.freeserve.co.uk
Handmade furniture in local hard woods, wood-carving, painted woodwork and the "House-box" - your home in miniature! Richard and Mary work to commission, with consultations and quotations free.
Callers welcome by appointment.
Directions: Half-way between Smithfield and Hethersgill.
---
11 The Chair Workshop
99 Main Street, Sedbergh, Cumbria, LA10 5AD
Phone: 01539 621489 Web: www.chairworkshop.co.uk
Repairs, seating, craft supplies, tuition. Cane, rush, cords, seagrass, willow and rope.
Hours: Usually Monday to Saturday 9.30am - 5.30pm, Sunday by appointment.
Directions: M6 junction 37 onto A684.
---
---
12 Woodstyle Joinery
Woodbank Farm, Brisco, Carlisle, Cumbria CA4 OQP
Phone/Fax: 01228 512303 Email: joiners@woodstylejoinery.co.uk Web: www.woodstylejoinery.co.uk
Handmade kitchens & bedrooms. Summerhouses & gazebos. Home offices. Garden architecture. Oak framed wooden garages. Nationwide delivery.
Hours: Man to Fri 8am-5pm, Sat 8am-12pm. Other times by arrangement.
Directions: J42, M6 Head for Dalston. First right to Brisco. Half a mile through village.
---
13 Croglin Toys

The Old School, Lazonby, Penrith, Cumbria, CA10 1BG
Phone: 01768 870100 Web: www.croglindesigns.co.uk
This is a high quality wooden toy making business, established in Lazonby's original school. The shop sells exclusively locally made toys with an ever expanding range for young and old, from little spinning tops to wooden animals to sophisticated sculpture sets.
Hours: Easter and June to Mid December, Wednesday to Friday 10am - 4pm. Normally open all year and all week, current times are on the answerphone.
Directions: On the B6413, 100 yards up from the Lazonby shops.
---
Lake District Textiles
Cumbrian textiles

Cumbria has a rich textile history particularly in the wool trade. As well as the woollen mills dotted around the valleys and dales, the county had a strong reputation for its hand knitting which involved all the family and whole communities. The most famous were the "terrible knitters" of Dent in the 18th century who were known as terrible for being terribly good!

The Cumbrian hills are also home to three native breeds of fell sheep, the Herdwick, Rough Fell and Swaledale, while our long history in the wool trade is further recognised through having our own distinctive colour used for dyeing cloth - Kendal Green.

This vibrant history is still alive, with Cumbria still home to many of the country's most creative textile makers of knitwear, clothing, weaving, felt and textile art.
---
14 Countryman John and Company Ltd
Lake Road, Coniston, Cumbria, LA21 8EW
Phone: 015394 41129 Web: www.countrymanjohn.co.uk
Unique wildlife designs hand printed on roller blinds, table linen, fleeces, ceramic tiles, etc. Also a selection of pine furniture, pottery and limited edition prints by local artists. Also features a range of gifts only available from our workshops!
Hours: Monday to Friday 9.30am-5pm, Saturday 10am-4pm.
Directions: From the village follow the signs for "Gondola" towards the lake.
---
15 Farfield Clothing Ltd

The Old School, Joss Lane, Sedbergh, Cumbria, LA10 5AS
Phone: 01539 620169 Fax: 01539 621716 Email: info@farfield.co.uk Web: www.farfieldclothing.co.uk
Established in 1985, Farfield Clothing manufacture a wide range of colourful and warm clothing for the whole family. Situated in the centre of Sedbergh in a beautifully renovated old Primary School just off the Main Street, you can browse in the Factory Shop.
Hours: Mon - Fri 9am to 5pm, Sat 10am to 4pm
Directions: M6 J37, turn left off the Main Street.
---
16 Rannerdale Mill Shop

39 Market Place, Cockermouth, Cumbria, CA13 9NF
Phone: 01900 825462 Fax: 01900 829009 Ernail: info@rannerdale.co.uk Web: www.rannerdale.co.uk
Locally designed and printed Lake District and Coast to Coast T-shirts are available at Rannerdale Mill Shop in Cockermouth's Market Place, along with hand-made children's fleece jackets and hats, lambswool and Shetland wool knitwear applique sweatshirts & embroidered cardigans, white bowls wear and water-repellent golf sweaters.
Hours: Man - Fri 9am - 5pm, Sat l0am - 4pm
Directions: Just across the Cocker Bridge, opposite Percy House Gallery.
---
17 The Wool Clip

Priest's Mill, Caldbeck, Cumbria, CA7 8DR
Phone: 016974 78707 Email: info@woolclip.com Web: www.woolclip.com
A co-operative of farming/craftswomen pooling skills in spinning, dyeing, knitting and weaving to produce a wide range of high quality, innovative and colourful items using wool from local sheep. Rugs, sheepskins, jumpers, yarns, felt, fleece - all in natural colours and dyed.
Hours: 11am - 4pm, Tuesday - Sunday and Bank Holiday Mondays. Closed New Year mid February. Directions: Next to the church in the centre of the village.
---
Lake District Art
---
18 Betty Fold Gallery
Hawkshead Hill, Hawkshead, Nr Ambleside, Cumbria, LA22 OPS
Phone: 015394 36611 Web: www.bettyfold.co.uk
Visitors to Betty Fold may browse at leisure viewing unique photographic images by Neil Salisbury of Lakeland fell hunting, and stunning scenery. Sample delightful home-made soups and baking while you enjoy the ambience of this beautifully situated country house.
Hours: Tuesday-Sunday 10am - 5pm
Directions: From Ambleside to Hawkshead road, follow signs for Tarn Hows.
---
19 Heaton Cooper Studio

Grasmere, Cumbria, LA22 9SX
Phone: 015394 35280 Fax: 015394 35797 Email: info@heatoncooper.co.uk Web: www.heatoncooper.co.uk
The Gallery: An exhibition of paintings, prints, sculpture, and cards of the work of four generations of the eminent Heaton Cooper family, from the watercolours of Alfred 1863 - 1929 and William 1903 - 1995 to the present day members. Artist Materials: An unusual range of specialist painting and drawing materials together with an exceptional range of papers.
Hours: Easter to October, Monday to Saturday 9am - 5.30pm, Sunday 12pm - 5.30pm; November to Easter, Monday to Saturday 9am - 5pm, Sunday 12pm - 5pm.
Directions: Centre of the village, opposite the green.
---
20 Havenart Art and Photography

The Retreat, Whitehaven, Cumbria, CA28 7TZ
Phone: 01946 63757 Email: havenart@connectfree.co.uk
HavenArt artist's studios create panoramic photographs of your special places in Cumbria. These can be customised with your words, or a photomontage created from your holiday photos. See website for details - posted worldwide. Canvas painting, screen printing and collographs are also created in this Georgian house.
Hours: Appointment only.
Directions: Hidden just off the A595 at Whitehaven.
---
Lake District Food
---
21 Brysons Of Keswick

42 Main St, Keswick, CA12 5JD
Phone: 017687 72257 Fax: 017687 75456 Web: www.brysonsofkeswick.co.uk
Brysons Craft Bakery and Tea Room, which started over 50 years ago on the same Keswick site, still produces a dazzling array of top quality freshly baked goods for its shop and Tea Room. Lakeland Plum Bread is a must for all visitors to the area.
Hours: 8.30am - 5.30pm Monday - Saturday, 9.30am - 5pm Sunday
Directions: Situated in the centre of Keswick on the main street.
---
22 The Bridge Cafe and Bistro

Newby Bridge, Cumbria, LA12 8ND
Phone: 01539 530667 Email: bridgecafebistro@hotmail.com www.thebridgecafebistro.co.uk

A real home from home in a fantastic setting, The Bridge Cafe & Bistro offers something for everyone from the famous Bridge Breakfast to homemade Indian & Thai delicacies to our outstanding evening meals. A place where food matters!
Hours: Sun-Thurs 8am - 8pm, Fri - Sat 8am - 11pm.
Directions: Situated on the A590 at Newby Bridge.

Situated on the A590, just south of Newby Bridge. Use postcode LA12 8ND in your SatNav.
---
23 Buttermere Ayrshires Ice Cream & Buttermere Landscapes & Crafts

Syke House Farm, Buttermere, Cockermouth, Cumbria, CA13 9XA
Phone: 017687 70277
Delicious ice-cream made here on the farm, using milk and cream from the resident herd of Ayrshire cows. Relax in the quaint ice-cream parlour, or browse in the gallery, featuring photography by Louise Kyle, locally made crafts, gifts and much more.
Hours: Open 7 days, 10am 5.30pm, Easter to November. Varies out of season.
Directions: Find us in Buttermere Village, just below the church.
---
24 Hawkshead Relish Company
The Square, Hawkshead, Cumbria, LA22 ONZ
Phone: 015394 36614 Email: info@hawksheadrelish.com Web: www.hawksheadrelish.com
An award winning, family run business with a range of top quality home made relishes, chutneys, mustards, sauces and preserves. All are available through the shop and mail order.
Hours: Open daily 9.30am - 5pm.
Directions: Located on a corner of the main village square.
---
25 Kennedys Fine Chocolates
The Old School, Orton, Penrith, Cumbria, CA10 3RU
Phone/Fax: 015396 24781 Email: kennedys.chocolates@btinternet.com
Kennedys Fine Chocolates are handmade using the finest chocolate and ingredients. Visit our Factory Shop and Coffee House with viewing windows into the production area. Delicious home baking and homemade ice creams. Mail order service available. Chocoholics welcome!
Hours: Monday to Saturday 9am - 5pm, Sundays and Public Holidays 11am - 5 pm.
Directions: 2 miles from M6 Junction 38 on B6260, 4 miles M6 Junction 39.
---
---
26 Sarah Nelson's Grasmere Gingerbread

The Gingerbread Shop, Church Cottage, Grasmere, Cumbria, LA22 95W
Phone: 015394 35428 / 35155 Email: business@grasmeregingerbread.co.uk Web: www.grasmeregingerbread.co.uk
This unique little shop, built in 1630 as the village school, is the only place to buy the genuine Sarah Nelson's Original Celebrated Grasmere Gingerbread. World famous for its secret recipe and freshly baked everyday since 1854. Worldwide mail order available.
Hours: Monday to Saturday, 9.15am-5.30pm, Sunday 12.30pm - 5.30prn. Closed Good Friday, Christmas Day, Boxing Day. Shorter hours in winter.
Directions: Centre of village, between Wordsworth Hotel and the churchyard lychgate.
---
Galleries and Workshops
---
27 Ambleside Artists' Courtyard

101 Lake Road, Ambleside, LA22 ODB
Phone: 015394 34120

Ambleside Artists' Courtyard, comprising Novel Cafe Book and Coffee Shop, Studio Pottery, Caribou Arts and Contemporary Crafts, is run independently by the artists and makers. They specialise in ceramics, paintings, jewellery and textiles.
Hours: April-October, 10am-6pm, November-March 10am-5pm
Directions: Down the courtyard between Youngs Furniture and Homes of Football.
---
29 The Gincase

Mawbray Hayrigg, Silloth, Wigton, Cumbria, CA7 4LL
Phone: 016973 32020 Fax: 016973 31443 Email val@gincase.co.uk Web: www.gincase.co.uk
Award winning farm attraction including a large 1760 stone barn, full to bursting with high quality crafts and art made by hand in Cumbria, with regularly changing exhibitions in the gallery. Also visit the popular tearoom and children's farm animal park and playground.
Hours: Easter to 1st November: Open everyday 10.30am - 4.30pm, 1st November to Easter: Open every day except Monday 10.30am-4.30pm
Admission: Free except to Farm Park. Adults: £2.50, Child 3 & over: £ 1.50 Concessions: £2, Family Ticket £7.50
Directions: From B5300, Silloth to Maryport Coast Road, turn for Newtown between Beckfoot & Mawbray, follow the signs.
---
30 The Lowes Court Gallery
12 Main Street, Egremont, Cumbria, CA22 2DW
Phone:01946820693 Email:email@egremont-tic.fsnet.co.uk Web: www.lowescourtgallery.co.uk
A fascinating gallery showing a wide range of painting, prints and craft work. Monthly exhibitions by emerging and established artists and craftspeople. Gifts for sale from Cumbria and surrounding counties. Also houses the Egremont Tourist Information Centre.
Hours: January-February, Monday to Friday 10am- 1pm; March-December, Monday, Tuesday & Thursday to Saturday 10am-5pm; Wednesday, 10am- 1pm.
Directions: Egremont is beside the A595
---
31 Percy House Gallery

38-42 Market Place, Cockermouth, Cumbria, CA13 9NG
Phone: 01900 829667 Fax: 01900 829667 Email: via web site Web: www.percyhouse.co.uk
Contemporary Art and Design in Cockermouth's oldest town house, dated 1598. Exhibitions ranging from textiles to photographs, paintings and sculpture. Unique furniture, ceramics, jewellery, glass, metalwork and textiles.
Hours: Monday to Saturday 10am - 5pm, all year.
Directions: 2 minutes walk along main street, just over the River Cocker 2 minutes from public car park.
---
32 The Pot Place

Station Yard, Plumpton, Penrith, CA11 9PA
Phone: 01768 885500 Fax: 01768 885555 Email: enquiries@thepotplace.co.uk Web: www.thepotplace.co.uk
Based in the old station yard in Plumpton, the Pot Place sells garden pots and ornaments, water features, log cabins, children's play equipment & gifts. There's a tea room serving home made cakes and snacks.
Hours: Open daily 10am - 4pm throughout the year.
Directions: Junction 41 of the M6 or A6, 5 miles north of Penrith.
---
33 Skylark Studio

9 South Street, Cockermouth, Cumbria, CA13 9QB
Phone: 01900 823521 Email: skylarkstudio@ukf.net Web: www.skylarkstudio.co.uk
The gallery of etcher, watercolourist and pastel artist Rolf Parker, also stocks a fascinating range of high quality British crafts including ceramics, pewter, glass and handmade cards, plus a large selection of fashion jewellery made on the premises.
Hours: Tuesday to Saturday 1 0am - 5pm closed between Christmas and New Year.
Directions: Just off Station Street, near to the Tithe Barn Pub.
---
Where to buy "Made in Cumbria" crafts.
Throughout the county, Made in Cumbria has a network of over 25 Partnership Shops. These partnerships are an important part of the development of our craft and gift sector. Creating a "shop within a shop" allows the craftspeople to find a market for their products through these many varied outlets.

Ambleside:
Armitt Museum, Rydal Road Phone:01539431212

Pilula on the Pier, Waterhead Pier Phone:01539 732411
Wide selection of Made in Cumbria items, ranging from pottery to candies and textiles. Also a stunning range of Pilula Crystal and Pearl jewellery. Don't miss this little gem of a shop. Hours: 9.30am-3.30pm Oct-Mar, 9am-5pm Easter-Oct, closed Fridays until Easter. Directions: Situated on Waterhead Pier behind the Windermere Lake Cruises ticket office.
Bowness on Windermere
The Burnside Hotel, Bowness Phone: 015394 44530
Cockermouth
Wellington Farm Shop and Tea Rooms Phone: 01900 822777
Coniston
The Post Office, Yewdale Road Phone: 015394 41937
A combination of post office and gift shop, where you will find Made in Cumbria jewellery, ceramics and pottery. Don't forget to sample our delicious Coniston Fudge, which is made on the premises.
Hours: April - Oct 9am-5.30pm 7 days per week. Winter openings will vary.
Grasmere
Beck Steps, The Village Green Phone: 015394 35820
Great Orton
Orton Grange Farm Shop Nr Carlisle Phone:01228 711410
Ivegill
High Head Sculpture Valley Phone: 016974 73552
Magnificent life-size sculptures are imaginatively displayed in a natural wooded valley. This unique attraction also features a gallery and ever changing exhibitions. Freshly prepared Cumbrian food in the traditional farmhouse tearoom. A selection of Made in Cumbria gifts and art are available in the gift shop. Directions: M6 J41 take B3053 to Hutton in the Forest. From north M6 J42 towards Daiston. Turn left at Black Lion pub and follow brown signs.
Kirkby Lonsdale
The Book Shop, Market Street Phone: 015242 71294
Low Newton
Yew Tree Gallery, Nr Grange Over Sands Phone: 015395 31498
M6 Burton Services, Nr Carnforth Phone: 01524 781234
Visit Cumbria's gateway service station to see a selected range of Made in Cumbria gifts featuring jewellery, figurines, and Lakeland mementos from around the county. Hours: Mon - Sun 7am to 11 pm.
M6 Southwaite Services, Nr Carlisle Phone: 01697 473476
Make a visit on the way to North Cumbria and Hadrian's Wall to see a selected range of popular Cumbrian gifts and craft in the gift shop. The featured items include figurines, glass, interior items and mementos of the area.

Lancaster/Forton M6 Services
Food From The Fells Phone: 01524 792871
Newbiggin on Lune
Lune Spring Garden Centre Phone: 015396 23318
Penrith
The Rheged Discovery Centre Phone: 01768 895598
Featuring over 80 Cumbrian makers including outdoor clothing, glass, ceramics,
wood, jewellery, toys, pictures and prints. Hours: 10am - 6pm. Directions: M6 J46 Penrith on A66 and follow signs to Keswick.
Sellafield
Sellafield Visitor Centre Phone: 01946 727027
The Sellafield Visitors Centre presents a unique educational experience and contains interesting and innovative exhibitions providing an insight into the world of BNFL and Sellafield. Made in Cumbria has a large range of items available in the site gift shop. Directions: 11 miles south of the coastal town of Whitehaven in West Cumbria.
Staveley
The Post Office, Main Street Phone: 01539 821247
Ulverston
The Cumbrian Way, Brogden Street Phone: 01229 588906
Heron Glass, The Lakes Glass Centre Phone: 01229 581121
Wray
Bridge House Farm Tea Rooms, Wray, Lancaster, LA2 8QP Phone: 01524 222496
A mix of local crafts, garden gifts and regional foods, Bridge House Farm is a year-round destination for a good quality afternoon out! Plants and Horticultural Expertise. Picnic Area and Children's Playground. Riverside and Woodland Walks. Hours: Open 6 days a week, Tues-Sun 10am-5pm. Directions: M6 J34 East onto A683, after about 5 miles turn right towards Wray.
---