Welcome to your guide to luxury hotels in the English Lake District
The Lake District has its fair share of luxury accommodation, and some of it is simply superb. The Samling, for example, is about as fine a hotel as you'll find anywhere in the world: it's one of those places that defines the word "service". Of course some of these hotels are pricey, but many have special offers and discounts, so you can enjoy luxury and comfort all around the Lakes without breaking the bank.
Our favourite luxury hotels in the Lake District are listed below by region, starting with the South Lakes and heading north. We'd appreciate feedback from you on all these hotels and any others you think should be included here. By the way, it's worth remembering that the number of stars isn't always an accurate guide to the comfort and luxury you'll find, because a hotel may be marked down for things you may not consider important like not having a lift (elevator) or 24 hour reception.
If you're a hotel owner, and would like to be included on this page of luxury Lakes hotels, please see our contact page for details.
---
Our Favourite Luxury Lakes Hotel - The Samling
The Samling hotel is renowned as one of the most luxurious hotels in the country. And no wonder. One look at its website will show you that staying here is an experience different to almost any other hotel you've ever visited.
Set in 67 acres of classic Lake District landscape, the hotel consists of 11 beautifully appointed bedrooms with stunning views over Lake Windermere. The restaurant at The Samling uses the finest, freshest local ingredients cooked to perfection and has received numerous Michelin stars and AA Rosettes over the years. You can easily see why The Samling is one of the most popular hotspots for foodies in the UK!
Famous fans at the hotel include Tom Cruise, the Beckhams and Stella McCartney.
And while many things about the hotel stand out, one of our own high spots was relaxing with champagne in the hot-tub - it's a must at this luxurious and elegant hotel!
The Samling, Ambleside Road, Windermere, Cumbria, LA23 1LR
For more information and contact details, click www.thesamlinghotel.co.uk
---
Windermere - Holbeck Ghyll
Set in a beautiful location on the shores of Lake Windermere, with breathtaking views over the Lakeland Fells, Holbeck Ghyll Country House Hotel, Restaurant and Health Spa sets the standard to which other Lake District luxury hotels must aspire. The building was acquired by Lord Lonsdale as a luxury lodge in 1888, and he later gave the building an Arts & Crafts "makeover" - this beautiful work can still be seen in the wealth of artistic detail to be found throughout the house, including stained glass windows and carved wooden panelling.
There's a seductive quality about Holbeck Ghyll - the welcome is so warm, and the atmosphere so relaxed, that you'll find any stress and tension draining away as soon as you settle into the comfortable armchairs by the cosy fire. The theme of luxury and relaxation extends into the bedrooms, which are all luxuriously equipped, with en-suite facilities and every modern amenity. Most rooms have spectacular lake views, as you can see in the pictures below, and they are individually designed and elegantly furnished. You'll find rich bed linen, fresh flowers, LCD satellite TV, CD and DVD players, a decanter of damson gin, direct dial telephones, bathrobes, a trouser press and a hairdryer come as standard.
Holbeck Ghyll is also noted for the excellence of its food and wine: it has won many awards, including a Michelin Star, which the hotel has retained for ten successive years. Other accolades include Four AA Red Stars, Three AA Rosettes for Food, The Cumbria Tourist Board Award for Hotel of the Year, The "Which? Good Food Guide": Wine List of the Year 2009, The Cumbria Restaurant of the Year 2008, and "Lake District Life" Magazine: Restaurant of the Year 2007.
The restaurant, under the guidance of Head Chef David McLaughlin, is open to residents and non-residents for all meals. Traditional British cuisine with a distinct French influence provides a rich source of inspiration and endless delights!
Holbeck Ghyll is indeed a luxury Lake District country house hotel. From the superb bedrooms, through the attentiveness and warm approachability of the staff, to the magnificent Michelin starred dining experience, Holbeck Ghyll sets the highest standards - and always achieves them.
Holbeck Ghyll Country House Hotel, Holbeck Lane, Windermere, Cumbria, LA23 1LU
Phone: 01539 432 375 Fax: 01539 434 743 E-mail: stay@holbeckghyll.com Web: www.holbeckghyll.com
---
| | |
| --- | --- |
| MacDonald Luxury Hotels | Paid Advert |
MacDonald's offer three excellent properties in the Lakes:
Swan Hotel, Grasmere
This 1650 Coaching Inn is one of the oldest Lake District hotels, perfectly located in the centre of the Lakes with a view of astoundingly beautiful countryside (a private garden has views over Helm Crag), and all the facilities you would expect of a 4 star establishment - log fires, an excellent restaurant, wonderful atmospheric rooms with plenty of old features and, above all, first rate service and accommodation. Close to excellent walks and cycle tracks, the Swan Hotel is indeed an ideal base for exploring all that the Lake District has to offer. Click here for more information
Leeming House Hotel, Ullswater
One of the most impressive hotels in Cumbria, with excellent service and accommodation, the Leeming House Hotel is in a perfect location for exploring the Northern and Eastern Lake District. The hotel boasts a wonderful set of private grounds, in fact it has 22 acres of private woodland with a private fishing area on the banks of Ullswater. This is a country house hotel with a modern twist: comfortable, relaxed, superbly appointed, with a restaurant of the highest quality, the Leeming House Hotel will surpass all your expectations and leave you feeling wonderfully relaxed and rejuvenated. Click here for more information
Old England Hotel and Spa, Windermere
Located on the shores of England's largest lake, Windermere, this extremely historic hotel has a very modern spa attached, to give you the best of the old and the new. With an award-winning restaurant which has one of the finest views in England as well as superb food and a wonderful ambience, golf facilities, private jetties and moorings, and a luxury spa, what more could you ask for? Ah yes....luxurious rooms to suit all budgets and tastes!
---
South Lake District Luxury Hotels
---
Newby Bridge - The Swan Hotel
Nestling at the foot of Windermere in a tranquil and convenient location, this hotel offers comfortable rooms in a refurbished 17th century coaching inn. They have a swimming pool and spa, the quality of their food is good and the hotel's within easy reach of the main attractions of Windermere and beyond. We've enjoyed some very pleasant Christmas breaks here, which were great fun: if you stay during winter and you're fortunate enough to get some snow, you'll find that the setting becomes even more romantic and delightful. Unfortunately the beds are only queen size, so if you like really big beds, that might be an issue for you.
The Swan Hotel, Newby Bridge, Cumbria, LA12 8NB
Phone: 015395 31681 Fax: 015395 31917 Email: enquiries@swanhotel.com Web: www.swanhotel.com
---
Windermere - The Samling
A glorious hotel, which epitomises everything that a modern luxury hotel should be. Its rooms are luxurious without any of the totally over-the-top chintz, ornate furniture and wooden panelling that sums up some country house hotels' ideas of luxury. Its understated service, with the finest attention to detail you can imagine, make this a hotel where everyone should stay at least once - and preferably as often as you can!
Ambleside Road, Windermere, LA23 1LR Phone: 015394 31922
---
---
Windermere - Linthwaite House Hotel
The owner Mike Bevans has worked in the hotel industry for a long time, and his experience shows. He's transformed this hotel in one of a breed of superb country house hotels that are now flourishing in Britain, hotels which combine effortless service and high standards with comfort and relaxation. Service without pretension just about sums up Linthwaite. It offers superb comfort and privacy, set in its own private grounds, with superb views and king sized beds. The decor is modern and tastefully rich without being over-opulent (if you want chintz, there are many other options in the Lakes!). The food, needless to say, is superb, as you'd expect from a hotel listed with 3 AA rosettes (which apparently makes it one of the top 200 hotels in Britain). There's also a great vegetarian menu.
Linthwaite House Hotel, Crook Road, Windermere, Cumbria.
Phone: 015394 88600 Email: stay@linthwaite.com
---
Windermere - Low Wood Hotel
The family who own Low Wood also own Storrs Hall and the Waterhead hotel, and they all have their own charm. Low Wood is situated on the shores of Windermere, and has some beautiful boating facilities. (The hotel will even supply a personal chef and butler to cook and serve your meals while you're aboard your yacht!) Good bedrooms with king sized beds, a surprisingly spacious leisure/fitness centre, and situated in the heart of the Lakes.
Low Wood Hotel, Windermere, Cumbria, LA23 1LP
Reservations (UK only): 08458 503 502 Phone: 015394 33338 Fax: 015394 34072 E-mail: lowwoodbay@englishlakes.co.uk
---
Windermere - Storrs Hall Hotel
I like this hotel, even though it is more opulently furnished and decorated than the hotels I usually select (I am a bit of a minimalist at heart - Linthwaite's style is more my cup of tea). It's a Grade 2 listed Georgian mansion right in the middle of 17 acres of grounds on the shores of Lake Windermere, with panoramic Lake District views. Fabulous! The luxurious rooms have king sized beds, and the restaurant has been awarded 2 AA rosettes. And if you want a quiet break, this is the place, since children under 12 are not accommodated.
Storrs Hall, Windermere, Cumbria, LA23 3LG
Reservations (UK only): 08458 507 506 Phone: 015394 47111 Fax: 015394 47555
---
Windermere - Aphrodite's Themed Lodge
One of the most unexpected and interesting properties in the Lakes, a hotel with a difference! It has all the qualifications of a luxury hotel - king sized beds, hot tubs, massive showers, luxury bathrooms, heated outdoor pool, and so on. But in addition, it has the most unusual feature of a different theme to each room - and some very wild and whacky they are, too! Have a look at the website and pick the theme that best suits your mood, then look forward to a luxurious stay with a difference!
Longtail Hill, Bowness-on-Windermere, Cumbria, LA23 3JD
Phone : 015394 45052 Fax : 015394 46702
---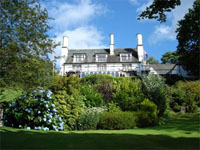 Windermere - Miller Howe
Miller Howe was one of the first of the modern breed of luxury country house hotels with superb cuisine. The founder, John Tovey, has retired, but the new owners claim that the traditions he started live on. I haven't stayed there myself, so reports from visitors would be most welcome. The furnishing is opulent, and some of the rooms have king sized beds. Let us know how you find it.
Miller Howe Hotel & Restaurant, Rayrigg Road, Windermere, English Lake District, Cumbria, LA23 1EY
Phone: 015394 42536 Guests: 015394 44522 Fax: 015394 45664
E-mail: lakeview@millerhowe.com Web: www.millerhowe.com
---
---
Central Lake District Luxury Hotels
---
Ambleside - Waterhead Hotel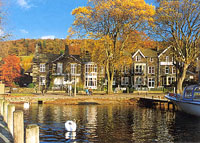 Very definitely my cup of tea, this hotel reflects a degree of urban chic which is refreshing to find in the depth of the Lakes. Very sophisticated, the design reflects attention to detail and whispers a reassuring confirmation of the hotel's stated aim: "Every detail is designed to offer a relaxed, intimate atmosphere, calm moods and a fresh approach to service." With king sized beds, this contemporary town house hotel could hold its own in the best of company. Waterhead is near Ambleside, situated at the head of Windermere, so this hotel is very convenient for all the attractions of the Lake District.
The Waterhead Hotel, Ambleside, Cumbria, LA22 0ER
Reservations (UK only) : 08458 504 503 Phone: 015394 32566 Fax: 015394 31255 E-mail: waterhead@englishlakes.co.uk Web: www.englishlakes.co.uk
---
Grasmere - Dale Lodge Hotel & Tweedies Bar
Situated just on the edge of the village in mature grounds, this small hotel is blessed with a variety of comfortable, well-furnished rooms including a most delightful room fully accessible for the disabled on the ground floor.
With a chef who has worked at some of the top restaurants in the world, it comes as no surprise to learn that the food is simply excellent. If you prefer something simpler and more informal, there is the highly enjoyable alternative of Tweedies Bar - just right for refreshments after a tramp on the fells. The Lakes has many small hotels which have broken the mould by basing their whole business philosophy on quality and comfort, and the Dale Lodge Hotel is one of the foremost among them. And if you're planning a wedding, this could well be the perfect venue....
Dale Lodge Hotel and Tweedies Bar, Red Bank Road, Grasmere, Cumbria, LA22 9SW
Phone: 015394 35300 Email: enquiries@dalelodgehotel.co.uk Web: www.dalelodgehotel.co.uk
---
Grasmere - Moss Grove Organic Hotel
Whether or not you believe that a hotel can be organic, the sentiment is in the right place - it's all about reducing pesticide use, recycling materials, and using local produce. The hotel is luxurious and comfortable, well appointed and yet relaxed, and will appeal to al those who love the more refined kind of hotel - with a green twist, in this case! King sized beds are available too - a wonderful feature for the truly relaxing stay!
Moss Grove Organic Hotel, Grasmere, Ambleside, Cumbria, LA22 9SW
Phone: 015394 35251 Fax: 015394 35691 Email: enquiries@mossgrove.com Web: www.mossgrove.com
---
The Langdale Hotel And Spa (Near Ambleside)
Langdale is more of a country estate than a hotel. It is set in a private woodland park criss-crossed with streams and tarns, and local flora and fauna. In the nineteenth century the estate was a gunpowder works, a factory built in the open air due to the risk of explosions.
Nowadays the atmosphere is somewhat more relaxed, the estate being given over to luxury accommodation in a grand manner. In addition to a conventional hotel, there are lodges, spread out village-style throughout the estate, making altogether 57 en-suite luxury rooms, all individually and tastefully furnished with modern fittings. Around the estate are a multitude of facilities, including a solarium and two swimming pools, one with dedicated lanes for serious swimmers.
After burning off all those calories, you will need to replace them at one of the fine restaurants. Purdey's Restaurant offers some very serious cordon bleu cuisine with an extensive wine list. Less formal, but of no less quality, is the Terrace Restaurant and Café-Bar, which has an excellent menu, available at any time of day. If you feel inclined towards "pub grub", just a short walk away from the Estate is Wainwright's Inn, a traditional old Cumbrian pub, regularly featured in the Good Pub Guide, with exceptional real ale and good food, including a daily special.
Langdale Country Club and Hotel, Langdale (Near Ambleside), LA22 9JD
Hotel Phone: 015394 38014 reservations@langdale.co.uk
Self Catering: 015394 38012 selfcatering@langdale.co.uk
Web: www.langdale.co.uk
---
Eastern Lake District Luxury Hotels
---
Ullswater - Sharrow Bay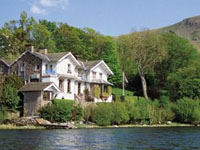 The original "Country House Hotel" which, though now under a new regime, still speaks of luxury and opulence. It may well be "the finest hotel in the Lake District", though of course whether you agree with this bold claim depends to a large extent on your chosen style of accommodation. This hotel is indeed furnished in an opulent and classical style, and it's well worth considering if you have a really special occasion (or you like this style of luxury). Needless to say, the hotel has a Michelin star - and many other awards as well.
Sharrow Bay Country House Hotel, Lake Ullswater, Penrith, Cumbria, CA10 2LZ
Phone: 017684 86301 Fax: 017684 86349 Email: sharrow@relaischateaux.com Web: www.sharrowbay.co.uk
---
North Lake District Luxury Hotels
---
Borrowdale - The Lodore Falls Hotel
Over the centuries this hotel has attracted many visitors, and although it has had its ups and downs, the recent acquisition by the Graves family means that once again the finest traditions of Lakeland hospitality and luxury will be available in one of the most beautiful parts of Lakeland. In fact this was the hotel my family stayed in on our first visits to the Lakes many years ago, so we have fond memories of it, and it's heartening to see it making a return to the highest standards that a family run business is especially placed to achieve.
With scenery which in my view matches that anywhere in the world, the Borrowdale valley is a superb base for exploring the quieter Northern parts of the Lakes - and of course the delightful town of Keswick is just up the road. If you're looking for comfortable accommodation, superb facilities, wonderful food and a great holiday, this hotel is just about perfect. They also have spa facilities and beauty treatments.
The Lodore Falls Hotel, Borrowdale, Keswick, Cumbria, CA12 5UX
Phone: 017687 77285 Phone: 017687 77343 Email: info@lodorefallshotel.co.uk
Be sure to check out the group's other properties on their website They own five luxury properties throughout the Lakes, which means you'll be able to find somewhere near your choice of holiday location!
---
Bassenthwaite - Armathwaite Hall
I have stayed here and thoroughly enjoyed myself - it's a very traditional - and comfortable - country house hotel in the old-school style, with great attention to detail and excellent food. Wonderful views of the lake, vast grounds to wander about in, and a very tranquil environment.
The Armathwaite Hall Hotel, Bassenthwaite, Keswick, Cumbria, CA12 4RE
Phone: 017687 76551 Fax: 017687 76220 Web: www.armathwaite-hall.com
---
North Lakes Hotel and Spa - Penrith
Run by Shires Hotels, a small hotels group which provides consistently reliable accommodation. Standard four star comforts. If you want a big bed, ask what they have available.
North Lakes Hotel & Spa, Ullswater Road, Penrith, Cumbria, CA11 8QT
Phone: 01768 868111 Fax: 01768 868291 E-mail: nlakes@shirehotels.com Web: www.northlakeshotel.com
---
Appleby Manor - Appleby, Penrith
Appleby Manor is a country house hotel which prides itself on attention to detail. You see this in the bedrooms, the restaurant's excellent menus (indeed, the restaurant has won 2 AA Rosettes - always a sign of very high accomplishments), the impeccable standards of service, and somewhat unexpectedly in the astonishingly extensive wine and whisky selection. Whether you want an active break with access to the beautiful surroundings of the Lakes and the Yorkshire Dales, or you just want a luxury break in a wonderful, characterful old building, this hotel is going to fulfill your expectations - and maybe surpass them. When we called in we chatted to some of the residents - without exception, they praised the hotel unreservedly. In my view, the swimming pool is a little on the small side, but this is such a minor quibble it's hardly worth mentioning. The hotel is beautifully situated in wooded grounds overlooking Appleby Castle.
Appleby Manor Country House Hotel, Roman Road, Appleby in Westmorland, Cumbria, CA16 6JB
Phone: 01768 351571 Fax: 01768 352888 Email: reception@applebymanor.co.uk Web: www.applebymanor.co.uk
---
English Lake District Accommodation; hotels and B&B's in the Lakes
Great prices on hotel rooms in the Lakes!
Check out the special low price offers at
Late Rooms.com