Lake District Walks:
The "Twelve Best Walks In The Lake District" are on this page
---
We're pleased to say that by kind permission of Paul Buttle, the author of many best-selling and informative walking guides to the Lakes, we can offer an online version of his extremely popular book "The Twelve Best Walks In The Lake District".
Paul is one of the Lakes' best known authors and fell walkers, with over ten best selling books to his credit, all describing popular and beautiful walks in the Lakes. We're privileged to have secured the reprint rights to the ever-popular "Twelve Best Walks In The Lake District."
We're able to offer this book for £1.99, with the convenience of instant download and access to twelve of the best walks in the Lakes. Print them off, or come back here anytime over the next twelve months for access to all the walks.
Paul is an enthusiastic local Lake District fell walker with over twenty years' experience of the Cumbrian fells. As you'd expect from an author of such experience and knowledge, this collection of walks is a superb, concise, straightforward and - best of all - easily followed guide to the best 12 full-day circular walks in the Lakes. It covers peaks throughout the area, and is an excellent guide to the diversity of scenery within the National Park. In total the walks comprise over 100 miles of walking and 35,000 feet of climbing, and in their matchless diversity they offer a worthwhile and rewarding challenge to everyone with more than a passing interest in the fells.
There's no better collection of Lakes walks with which to start or add to your Lakes' fell walking experience.
The cost of this downloadable version of Paul's best selling book is only £1.99 (approximately $4) - and you get access for a whole year! We use PayPal to handle the payments for this excellent set of walks, because PayPal are well-known as a safe and secure means of payment over the internet. None of your personal details, or credit card information, ever leaves the PayPal security system, and we do not get access to it. Also, rest assured that we will never send you any follow up emails, nor will we ever release your email address to anyone under any circumstances! What you get for a mere £1.99 is access to a complete set of the best walks in the Lakes, covering some of the finest scenery in England, with accurate and full descriptions of every step of the way. This makes the walks package both excellent value and a super way of enjoying the finest views and most exhilarating walks that the Lakes has to offer. You won't find value like this anywhere else, either on the internet or in shops.
You can get access to the details of all 12 of the best walks in the Lake District, with complete and detailed directions, by clicking on this BLUE PAYPAL "PAY NOW" button. And you can buy your "subscription" (that's PayPal's description of our one-off charge of £1.99, giving you access for a full year), whether or not you have a PayPal account. Just click below and you can be printing the walks off in moments from now.....
All transactions are handled safely and securely by PayPal with 128 bit encryption.
---
The walks are shown on the location map below:
1 Bowfell and Crinkle Crags
2 The Buttermere Fells
3 The Coledale Horseshoe
4 The Coniston Fells
5 The Fairfield Horseshoe
6 Great Gable
7 Helvellyn
8 High Street
9 The Newlands Horseshoe
10 Pillar
11 Scafell
12 Scafell Pike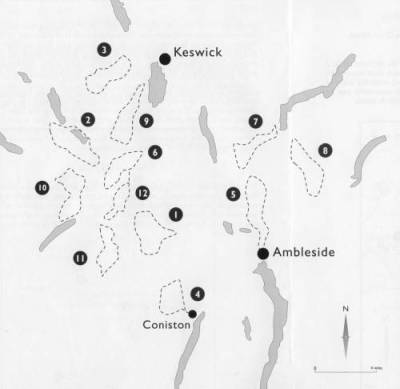 Great prices on hotel rooms in the Lakes!
Check out the special low price offers at
Late Rooms.com